Have you failed growing garlic? I have. No matter what I did, the stuff I bought at the store just didn't turn out right.
My failure led me to research. And my research revealed there are hundreds of varieties of garlic in the world… but I could only ever find one in garden store.
So I began a search, that turned into a hobby, and grew into an obsession. Each year, I seek out new varieties and grow them on to supply home growers with better garlic. Especially garlic that will flourish in Northland's climate and conditions.
The Varieties
All going well, there should have enough in 2022 to supply to home growers.
Ajo Roja
This is a garlic for garlic lovers. It's a spicy, strong garlic with red skins that deepen to purple as they dry. If you're looking to take advantage of the medicinal benefits of garlic, this is the one for you.
Ajo Roja is a hard-necked garlic, meaning it produces scapes (flowers) in late spring. These should be removed to concentrate growth into the bulb. See the note on scapes below for ideas on how to eat them.
Ajo Roja does not store very well, usually starting to turn at around 5 months. It can be peeled and frozen for up to 18 months.
I've been growing my stock of Ajo Roja continuously in Northland for 4 seasons now.
Takahue
Reportedly bought to the gumfields of Doubtless Bay in the 1800's by gumdiggers, Takahue is the most reliable garlic we have.
It produces large bulbs with white skins and purple stripes. It can get so big you'd swear it was elephant garlic. But it's not. It's a soft-necked garlic, meaning it can be plaited and stores well.
Taste-wise, it's pretty close to what you'd get from the supermarket. It's easy to peel and work with in the kitchen too.
A good one to start with if you'd like to supply your household with reliable homegrown garlic throughout the year. We've been growing it for 4 years now.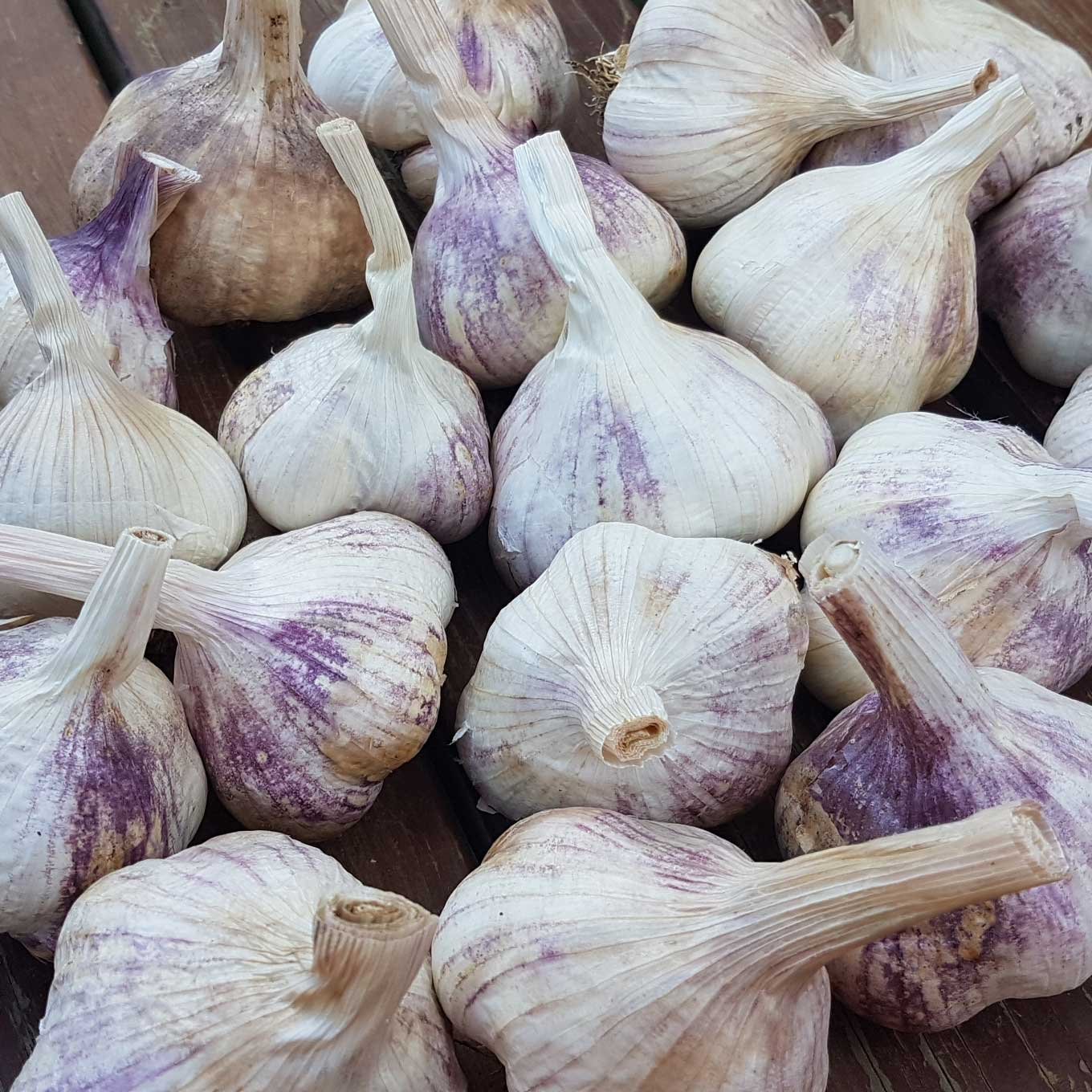 White Rocombole
The best for smaller gardens as it has a smaller footprint and matures in 5 months, rather than the standard 6.
A pure-white hard-necked garlic with surprisingly chunky cloves for its size. It will also produce scapes in late spring which you can cut off and use in cooking.
As a hard-necked garlic, it's difficult to plait and doesn't keep well. It often starts shooting first, ready for a new season's growth. It can be peeled and frozen if you want to keep it past autumn.
This is my third season growing White Rocombole.
The experiments (coming soon, maybe)
Kakanui
Sourced from Nelson in 2021, Kakanui is in it's trial year. It's a soft-necked garlic, with smaller cloves than my other varieties. The loves have a reddish tinge.
I'm not sure how well it'll do, but we'll know once the harvest is in, I guess!
Spanish Red
Apparently different to Ajo Roja, I'm mostly growing this one to compare the two. Like Ajo Roja, it is a hard-necked garlic with red skins.
2021 is my first season trialling Spanish Red. It came to me from Blue Terrace Garlic in Dunedin – go sign up to their mailing list if you'd like to get your hands on some.
"Mongolian Red"
It's not remotely red, but this garlic came to us from Whanganui. Most of the garlic in that delivery failed to thrive, but whatever this is did really well.
We found it easy to peel with good-sized cloves. It was quite mild while fresh, but developed a garlicy-kick as it dried. Officially my brother-in-law's favourite.
Russian Red
I've no idea what to expect from this one. I know it's a hard-necked garlic that came as tiny bulbs with astonishingly large cloves. I don't know where it was originally grown.
I purchased it from Mitre 10 and 2021 is my first year growing it. It's the first year I've seen anything other than Printanor in stores and so I felt compelled to get it. It was slow to start, but it's growing well now.
Everything I know about planting garlic
In this post, I try to think of everything I do before planting to make my own grows successful.
Includes prepping your soil, selecting seed cloves, when to plant, spacing, and tools.
Everything I know about looking after garlic
Garlic takes up to 6 months to grow. Something that takes half a year is going to require a little maintenance.
In this post, I cover mulching, weeding, spraying, fertilising, and what to do about your scapes.
Everything I know about harvesting and curing garlic
Coming soon! When your garlic begins to die back, it's time to lift it. But then what?
In this post, I'll show you how to cure and store your garlic so your harvest can feed you and your family throughout the year.