As of this week, I have published a blog on this website every Sunday for a year. In one of my very first blogs, I had a big ol' moan about the state of my garden.
Before living here, I'd spent the previous two years establishing gardens at a rental property. They were just beginning to really flourish when we moved and starting again kinda sucked.
But now we have been here for over a year. We've developed 9 of the 12 planned garden beds. Have invested in soil testing and amendments to correct deficiencies. Added compost by the trailer-load and mulched like a machine. And systematically been eradicating the kikuyu that grows right through and around the garden. We've spent many hours out there over the last year, so how are we going?
Plentiful peas
Richard loves peas. In 2018 at the rental I grew a wall of Alderman peas and saved a whole lot of seed. I came up with an idea to do a sowing of peas every month from June to September. Each sowing seems to provide about a month's worth of peas. The plan was to make the season last 4 months.
We were moving over that period last year, so I never got to do it. But this year I had a bed ready to go, and every month we've set up a trellis made from warratahs, wire mesh, and a bunch of zip ties, then planted a batch of seed below.
June's trellis (on the left) is heaving. It's full of peas and flowers, we should be able to begin harvesting enough for dinner in the next week. September's sowing (on the right) is just beginning to pop up. It looks like we'll be eating peas right up until Christmas, with heaps left over for the poultry.
All the potatoes
Just after lockdown ended, I went and grabbed 4kg of seed potatoes – 2kg of Cliff Kidney, and 2kg of Agria.
The Cliff Kidney went into the garden in July. Then they got hit by a pig in early September, and then by frost a couple of weeks later. They're don't look so well on top.
I hadn't been expecting too much from them, but on Friday night I went out to find some spuds for dinner. Under the mulch I found it utterly heaving with perfect spuds.
That's the bit that counts, so even though they look sad, there are amazing surprises under the surface.
Cliff Kidney potatoes looking a bit sad
Agrias looking much happier
The Agrias went in more recently, and are doing really well under the spoiled hay mulch our neighbour gave us. They're planted alongside catnip, lettuce, carrots, and parsnip. They should be ready in early January.
Last week I also purchased another kilo of Agria, as well as a kilo of a new variety called Haylo. I've been told Haylo is better than Agria – a claim almost too outrageous to ignore! The seed potatoes are chitting for now, but I'll try get them in side-by-side soon to really test it out.
Kat's Nip
The catnip swale has really settled in recently, and I can see the growth starting to take off. I also have another patch in the herb garden. I'm really happy with how the growth is going so far. There's some more keeping the Agrias company, and an entire tray of seedlings slowly starting in the greenhouse too.
I'm hoping to have Kat's Nip back in stock soon, though I'm still not sure if it will be in time for Christmas or not. One thing is for sure though, my cats are definitely fans of it.
Garlic and shallots
Oh, the garlic. It's been a saga. Back in May, Richard and I planted 200 garlic and shallots. In June, I added another 50 garlic cloves in another bed. At this point, I'm growing several varieties in a collection I've been nurturing for years.
Despite a pig attack in early September, I'm pretty confident we are 5-6 weeks away from beginning harvest on the garlic. The white rocombole variety matures faster than the rest, and has begun going to flower. We have a row of it planted right down the middle, and I think we'll be lifting it soon. For this year, I've got to try and save as much of this one as possible. It turns out White Rocombole is my favourite variety to eat! Last year I ate way too much of the stock, so I need to hold on to whatever I can for growing on next year.
The Takahue variety has really fattened up and is about due for its last liquid feed. Harvest for this, and the Aja Rojo/Spanish Red is probably two months away. I'm not sure how the Aja Rojo harvest is going to pan out. Some look promising, and others look a bit sad. My fingers are crossed I'll have enough of both to supply this year.
It's my first year growing shallots this year, but they look really happy and healthy, so I'm taking that as a good sign. I have since discovered I may have buried them too deep, but I guess we'll see what happens when I pull them up from the ground.
In the quarantine bed, the "Mongolian Red" is growing quite strong. I'm not seeing any problems with it so far, but I'll still be interested to see what we actually lift. It was planted on the shortest day, so we won't know until December.
The strawbs
After I got my soil tested, I discovered my garden may benefit from some paramagnetic rock. I ended up buying some, but I couldn't help wondering if maybe it was all bullshit and I'd just bought some snake oil. So when I built two identical beds to be filled with a fast-growing, prolific, identical crop – I figured I had a chance to do some science.
So one strawberry bed has been dosed with BAS-50, and one bed has not. In all other ways they are pretty much identical. But it's becoming more obvious which one got what I now call "magic rock dust".
So far, both beds had an identical survival rate (22 plants in each bed did fine, while 2 struggled but pulled through for 100% survival). They've also been growing leaves at around the same rate. But in the last 6 weeks or so, we've really begun noticing the difference.
The BAS-50 bed flowered first. It had berries ripening first. And has consistently had more berries since the start. Now – well. It's hard to deny the difference when you look at it.
Is it paramagnetism? I don't know. Maybe it's the trace minerals in the BAS-50. But either way, it's noticeable. There's still more experimenting to do over the season. I'm sure this topic will get its own blog sometime in the future.
Up and comers
In the greenhouse, there's a bunch of seedlings ready to go in. I've got Roma tomatoes, two varieties of cucumber, capsicums, paprika, mini pumpkins, and a whole bunch of herbs and flowers to fill gaps.
There's still 3 beds to develop, and I'll need at least one of them for the corn and beans. My garden slopes, so I want them at the lowest end to benefit from the most moisture.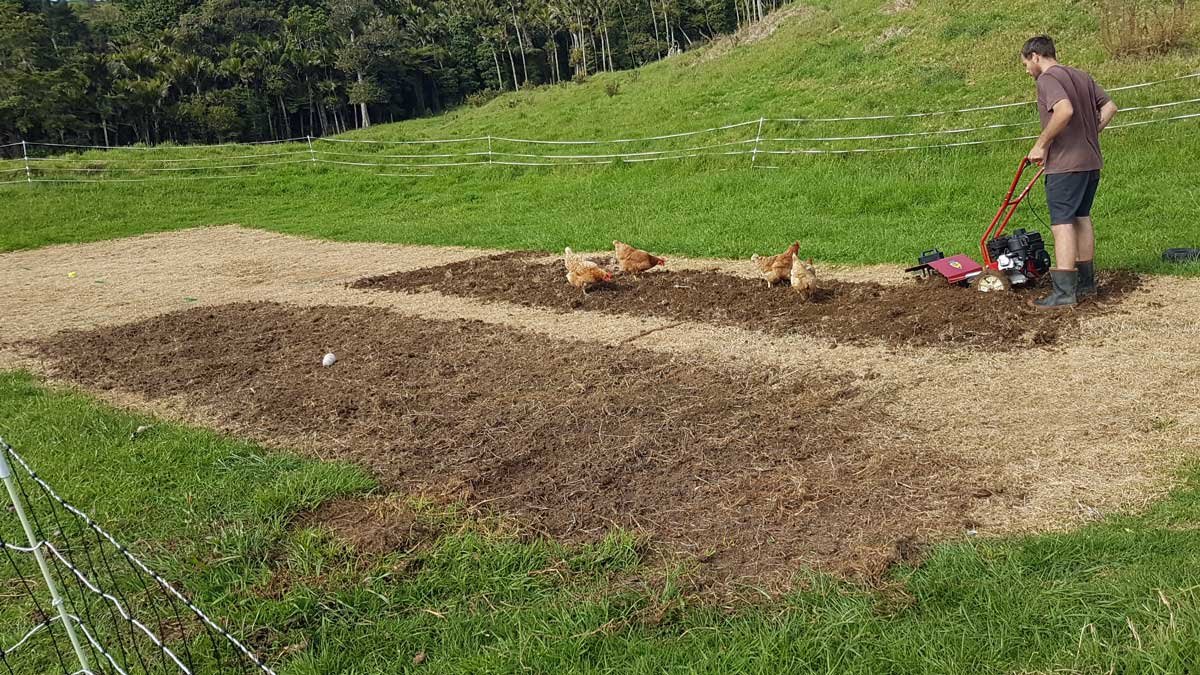 There's also the tiny project of the "sunflower field". It's actually going to be four 2×7 meter beds, but in theory, we'll be able to walk through a field of sunflowers in a few months. The seeds will make good poultry-food, while the biomass they'll create can be mulched down to become compost. I'll then use these beds to grow garlic next year. It's enough space to double, or possibly triple the garlic harvest next time around (fingers crossed).
If you want to keep up with my garden at any time, you'll find more regular updates via my Instagram or Twitter. There's also my planting calendar available on Google Sheets. This is what I plant, how I grew it, where I got it, and how it goes over time.
You can also subscribe to my email newsletter below if you'd like to follow along on the journey, or get your hands on my seed garlic as soon as it goes up for sale. Every Sunday I send out a link to this week's blog, as well as a behind-the-scenes peek at other goings-on around the farm.