2023 new season's harvest now available and danker than ever!
Spray-free catnip (Nepeta cataria) leaves. Grown over summer 2022-2023 in Orotere, Northland.
Due to popular demand, you can now treat your kitty friend to my home-grown catnip. It's chronic for cats.
Catnip is named due to the effect it has on felines – even lions and tigers have been recorded partaking in the occasional wake and bake. Cats will eat and roll around on catnip to achieve a 'high' that will last between 2 and 20 minutes.
While blazed, your cat may become hyper, or they may chill out and relax. The exact effects seem to differ from cat to cat. Once the buzz wears off, cats will then have a natural period where they will not react to catnip.
I recommend spacing doses by at least a day to ensure maximum enjoyment.
Up to 1 in 3 cats may not respond to catnip. In testing, cats previously thought to have been immune have shown interest in Kat's Nip. I suspect this is because the leaves are freshly dried, and provided as whole leaves (not crushed). It's also picked just as the catnip is going to flower as this is when it's at it's strongest, so don't panic if you find a bud in there too.
Crushing the leaves and flowers releases the essential oils, and this is where the active ingredient is found. When you buy crushed catnip products, the essential oils have already been released, making it more or less cabbage.
This may account for why your cat hasn't been interested in the past: you haven't provided the dank dank.
But Kat's Nip is tried and tested on several random kiwi kitties. At least 6 instances of cats attacking the mail pile have been recorded so far. If your furry pal is going to react to catnip, they will react to this. This is the good stuff.
Refunds are not available if your cat is immune to catnip. If you are not sure, get the small sampler size.
Buy Kat's Nip – Available in two sizes!
Please note: Orders are posted on Mondays and Thursdays.
Cut-off for the next shipment is 10pm the night before (Sunday/Wednesday).
4.2g Bags
$14.00
Contains 12-15 serves
1g 'Sampluur' baggies
$4.50
Contains 3-4 serves
Hi, I'm Kat. I live with my partner, 3 cats, 2 dogs, and assorted farm animals on a lifestyle block near Kerikeri in Te Hiku (Far North), Aotearoa (New Zealand).
I grow catnip in my vegetable garden as a companion plant. It brings all the bees to my yard – as it were. I do not use pesticides, and fertilisers are generally organic-based and made on-site.
My catnip is grown, harvested, cleaned, dried, processed and packed with my own hands. This results in a high-quality product with a ever-growing following amongst New Zealand's felines.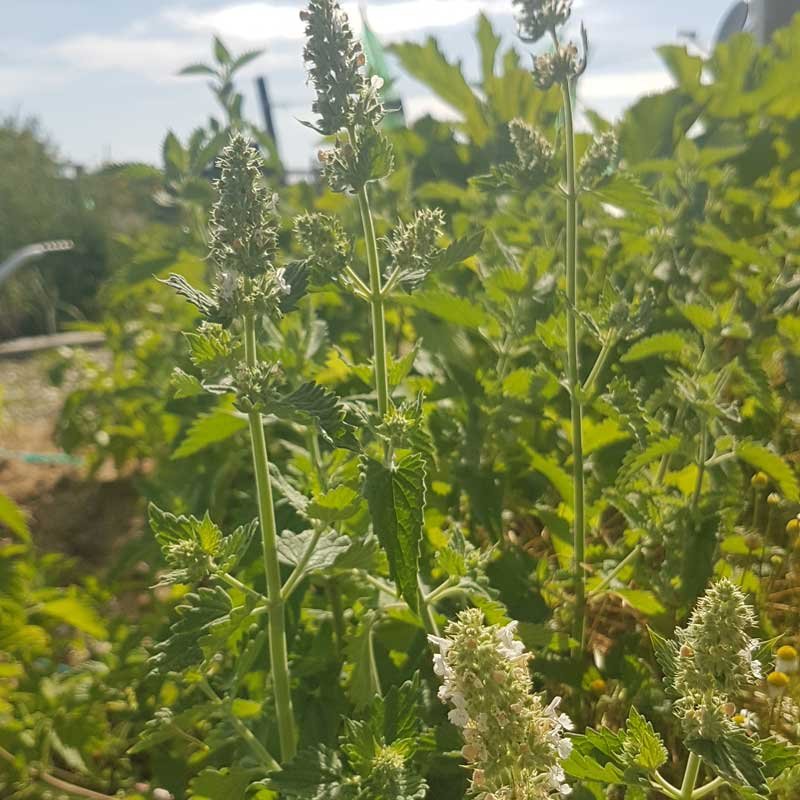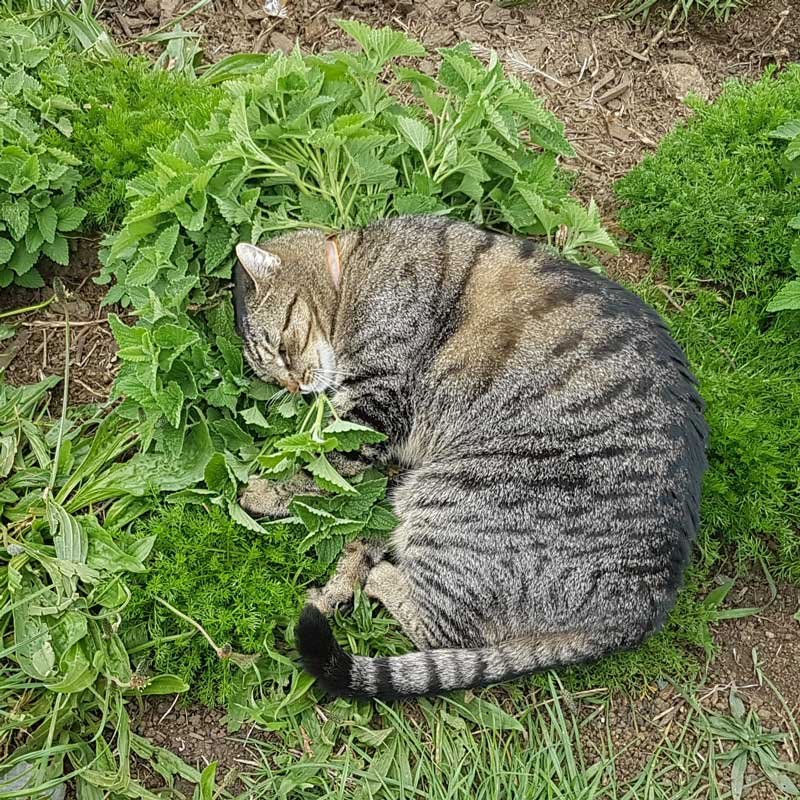 Buy Kat's Nip – Available in two sizes!
Please note: Orders are posted on Mondays and Thursdays. 
Cut-off for the next shipment is 10pm the night before (Sunday/Wednesday).
Stockists
Looking for Kat's Nip near you? Ask your local independent pet store to contact me! Otherwise, check the stores below.
Wellington
The Natural Petshop – 235 Main Street, Upper Hutt
Frequently Asked Questions
How do I use Kat's Nip?
Crush a leaf between your fingers and offer it to your cat. They may lick or smooch the leaf. If they show interest, crush a bit more and drop on the ground.
Your cat might eat or roll on the catnip. You may need to vacuum the floor after they're done.
How much is postage?
All orders are tracked and you will receive your tracking number when your parcel is ready to be sent.
Orders are sent on Mondays and Thursdays.
I send via New Zealand Post Economy shipping and charge a flat $5.00 rate for urban addresses. Rural customers with an RD address will need to pay an additional $5.50. These prices increased on 1 July 2023 due to NZ Post price increases.
If you have a Rural Delivery (RD) address, please choose the correct shipping rates. Underpaid shipping fees will result in your order being held. Please check our shipping and postage policy page for more details.
If for some reason you have overpaid your postage, I will refund you the difference.
How is Kat's Nip made?
Catnip is a herb related to mint. I grow dozens of plants on my property near the Bay of Islands.
Twice a year (in about November and February), we harvest our plants as they begin to flower. This is when the active ingredients are at their strongest. The harvested stems are hung to dry naturally in bunches.
Drying can take up to 2 weeks. A slower drying time helps preserve the active ingredients. Once dry, the leaves and flower buds are removed from the stems. It is the leaves and buds that are packed into a bag of Kat's Nip. The stems are returned to our soils via wormfarming and composting.
What affect will Kat's Nip have?
It's honestly hard to know until you try. Some cats get very hyper and playful. Others get chilled and relaxed.
Usually the same cat will experience the same effect from dose-to-dose, but the effect can differ from cat-to-cat.
Some of my regular customers use catnip to calm anxiety, but this effect cannot be guaranteed.
Will Kat's Nip work for my cat?
I don't know. Up to one in three cats may be immune to the effects of catnip.
I will say that if your cat is reactive to catnip, they will absolutely be reactive to this catnip.
My techniques and methods are designed to provide the absolute highest quality product that I can. Cats thought to be previously unreactive have reacted to Kat's Nip.
Sometimes, timing can be everything. If your cat is not initially interested, try again at another time on another day. They really can take or leave it sometimes, and at others, they literally attack it!
I do not give refunds for non-reactive cats, but I do offer smaller 'Sampluur' baggies when stocks allow.
How are payments handled?
I use Shopify as the engine that powers my online sales. All data related to your transaction is kept safe on Shopify.
You can pay via Shopify checkout, Paypal, or bank deposit.
Do you supply wholesale?
Yes, in a limited capacity to independent retail stores. My annual harvest is growing, but it's still small in the grand scheme of things so we do not supply online retailers at this stage.
If you would like to talk about stocking Kat's Nip, please get in touch using the form below.
Do you make toys?
I don't, but I'd love to partner on this. My skills on the sewing machine aren't too flash, but if it's something you might be interested in working on, get in touch below!
Can I use Kat's Nip myself?
Kat's Nip is not certified to human grade, though I stand behind my processing techniques.
Catnip can have unpredictable effects on humans when ingested. Like cats, it can either stimulate or relax. It has been known to increase anxiety in humans.
I do not generally recommend you ingest Kat's Nip yourself.