Despite a weather forecast that said 'rain most of the week', it's been quite nice here over the last seven days.
The temperatures are dipping (we even got a hint of a frost this week). The sun isn't always shining, but the fact it isn't always raining either feels quite lovely right now.
Given we woke up most days expecting rain, we cautiously took advantage of the dry weather to get some stuff done.
Pruned the orchard
Last year I made an attempt to look after the trees in our orchard by pruning them.
I didn't really know what I was doing. It doesn't seem to matter how many books I read or videos I watch, the 'how to' of pruning just hasn't quite sunk into my skull. Some things are just like that.
So I decided to just do things and watch what happens. When I came back to prune this year, I could absolutely see things that I did wrong last time. But I could also see what I was getting right.
This year I've mostly worked on lifting crowns by removing the lowest branches. After that, I removed branches that would cross. And then I stopped. Sometimes less is more.
I'll see how they go this year. Maybe I'll get the hang of it some day.
Transplanted herbs
Catnip has self-seeded around the garden. It's in beds I'd like to use for other things, and the paths.
We also had a clump of valerian growing in the middle of the lawn. Long story, but we'd like to be able to mow that piece of lawn now, so the valerian needed moving too.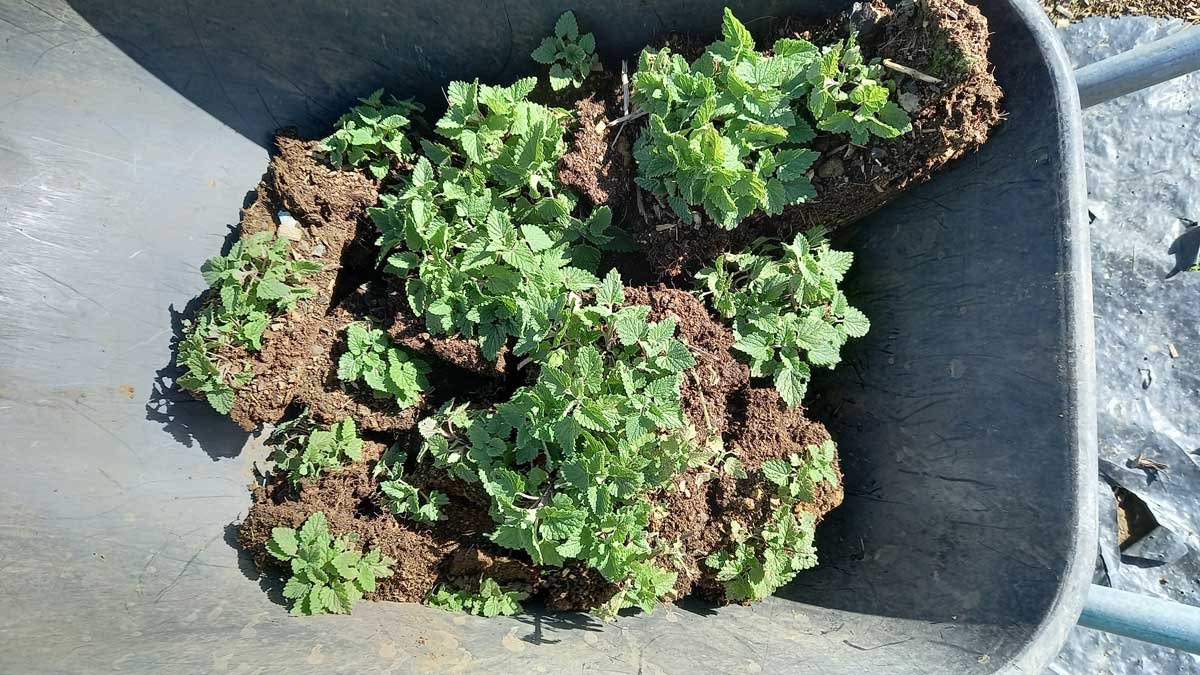 The valerian went into my 'medicinal and beneficial' garden bed. And the catnip is in the process of being moved to the cropping area.
Sprayed the garlic
This year's garlic crop is doing pretty well so far. Fingers are still crossed I can keep my heritage varieties going past last year's rust.
Once or twice a week, I am spraying all the alliums in my garden (chives, clumping spring onions, leeks, shallots, and garlic) with apple cider vinegar. I'm using a ratio of 1 cup of ACV to 5 litres of water.
It's a last-ditch effort to keep the rust away. I think it's much too early to say whether it works or not, but I don't think it's going to hurt.
I'd rather not use copper or stronger fungicides, so I'm keeping a sprayer filled with the mix to make the job easier to do regularly.
But so far, so good. I'm cautiously happy.
Planted peas
It'll take a couple of weeks for them to pop up, so we haven't built anything to climb up yet, but I got out and planted a couple of rows of peas this week.
I planted a lot of seed because my garden has been getting utterly hammered by slugs lately. I'll thin them out once I see the survival rate. This planting should give us early-summer peas.
Usually I'd do a few plantings between June and September for a continuous harvest, but peas are a lot of work over that much time. So we'd just like a large number of peas over a shorter harvest period this year.
This is my fifth season growing Alderman peas. I originally sourced the seed from Koanga Institute. I save seed from my best peas each year to grow on the following year.
Marked out beds 12 and 13
I've done a couple of 'garden updates' where I mentioned these. In the first update, these beds were covered in grass. In the second, they were under plastic to kill off the kikuyu. Well, the plastic is off, and this week I marked them out with string.
I'm still not entirely sure how much of these beds we need to frame with timber. I don't know how I'll make it work, but marking out the beds makes it slightly easier to visualise and make those decisions.
Let's all cross our fingers I get onto that before the grass grows back again!