Last year, I really got stuck into learning about my family's history. Along the way, I made some surprising connections with long-lost relatives; found long-forgotten ancestors; and extended what is known about our family tree and journey to New Zealand by three generations.
As part of this new hobby, I opened up my Gran Shirley's hand-written recipe book and started baking. One recipe I spent months looking forward to trying out was her mother's – Nana Retter's – fruit cake.
It appears four times over two family cookbooks, listed as both a 'Christmas cake' and a 'wedding cake' (just with double the amount of ingredients).
I decided pretty early on (in June) that I would make Nana Retter's cake for Christmas 2022.
Now Christmas has been and gone and the cakes have also been and gone, I thought it was time to do a bit of a write up and share the recipe.
There's a bit of a lead-up on this one so click here to just get to the recipe and skip all the introduction stuff.
Who was Nana Retter?
Nana Retter was born Annie Kathleen Thora Schaeffer on 9 May 1905 to Henry Louis and Ellen Kate Shaeffer (nee Barrett) in Hastings, New Zealand. Apparently her friends knew her as 'Tot'. I only ever knew her as Nana Retter.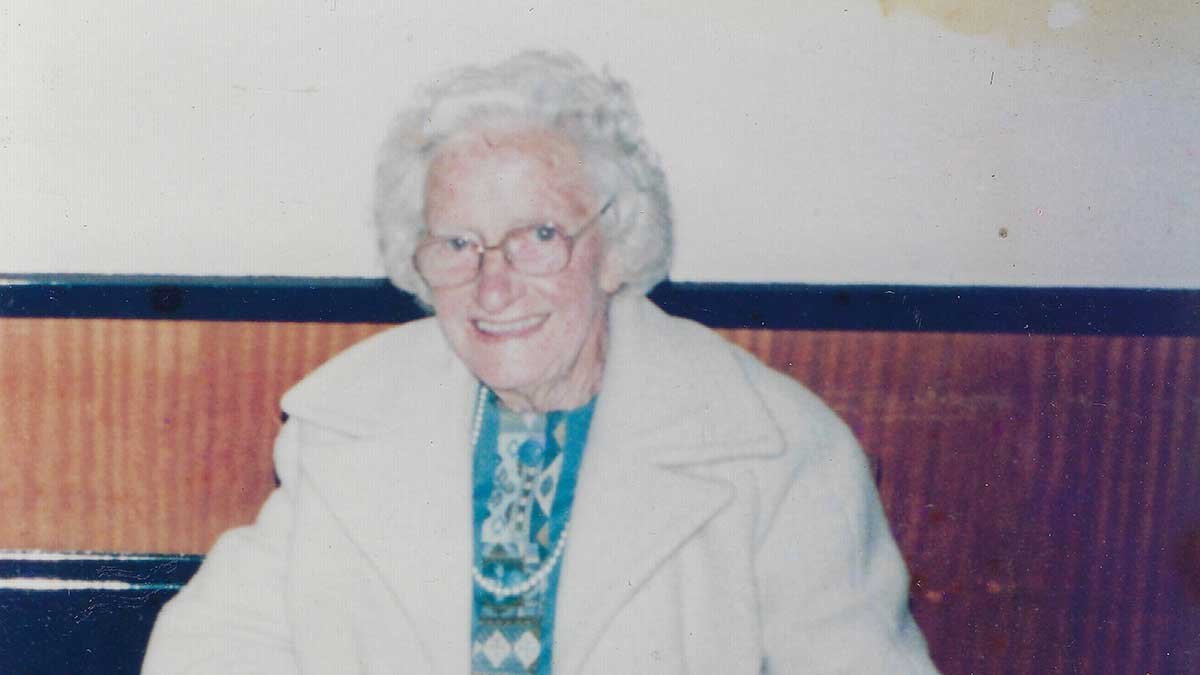 She was a second-generation New Zealander on both sides. Her mother's parents immigrated as a married couple from England in 1876 and her maternal grandmother signed the Women's Suffrage Petition. Her father's parents were German and Scottish, arriving married but separately in 1877 and 1881. Their journey and time in New Zealand has been written about by historian Michael Fowler here.
Tot grew up in the Napier/Hastings area, and in early 1926, she married George Ernest Warman, an English immigrant and ANZAC war veteran who was 12 years her senior. They moved to Northland, living primarily around Kaipara where he worked as a butcher. They had three children: Shirley (1927), John (1929), and Jean (1932).
In the early 1930's, the couple moved back to Napier. This was possibly before, or as a result of the Napier Earthquake as George is recorded as having been the owner of a house that needed repairs.
On 30 January 1934 – aged 28, with three children under the age of 10 (and during the Great Depression), Tot became a widow. George died of surgical complications in Napier Hospital.
Three years later in 1937, she married John Chapman Retter (they are shown together above).
He was originally a shearer and sheep hand, but later worked at Napier Port as a watersider. Family legend has it he also invented the ride-on lawnmower.
I've been told multiple times by various people that Nana Retter was renowned for her baking. She always had something to offer guests. I'm lucky enough to have discovered at least a few of her recipes in my Gran's cookbook.
Tot and John lived together in Napier for the rest of their lives, dying within two months of each other in 1989. Nana Retter died on 9 September, followed by her husband on 3 November.
Memories of Mum
For me, the most vivid memories of making Christmas cakes were with my mother. Growing up, Mum was the person who made the Christmas cakes for the family. She had a tin full of cake decorating equipment and accessories that she had inherited from Nana Retter.
Mum, me, Gran, and Nana Retter – circa 1985.
She'd make two huge cakes. One for us, and one to take away to wherever we spent Christmas. It was a whole production that took months. I have various memories throughout the years of different stages, but I loved decorating day the most.
Our kitchen had a window through to the dining table. I used to sit on the other side of the kitchen window on a tall stool, watching and gobbling scraps of the marzipan and white icing.
I have a vague recollection that Mum actually made the Edmonds Christmas Cake, or some variation of it, rather than Nana Retter's. She definitely used to soak the fruit in ginger ale overnight, which isn't specified in Nana Retter's recipe.
I always wanted her to use an alcohol, but she stubbornly stuck to ginger ale every year and told me I could use alcohol when it was my turn to make the cake (spoiler alert, that's exactly what I did).
Making the best cake
I set out thinking this might be the only time I ever make this cake. It's special, so I wanted to make the best cake. Without moving too far away from the original recipe, I made a couple of changes.
I think in 2022 we have more demanding palates, and I wanted the recipe to hold its own. So I increased the amount of spice and essences, chose better fruit, and took a leaf out of my mother's book and soaked the fruit overnight (though I fulfilled young-me's desire and sprung for a cheap sherry rather than ginger ale).
The original recipe called for "dried fruit". I remember my mother using bags of pre-mixed fruit. The problem for me was they always contain glacé cherries. And glacé cherries 'infect' every piece of fruit and cake they touch.
I hate them. They totally ruin a good cake and they put me off fresh cherries for far too long – frankly, unforgiveable. They weren't going anywhere near my shopping trolley, let alone my cake.
So I looked up the ratio of fruit in those bags and made my own approximation of the mix, replacing the cherries with dried cranberries.
For added twee points, I also made my own dried citrus peel from home-grown and local fruit over winter.
It took days and contained grapefruit, orange, lemon and lime peel. I kept it in the freezer waiting for its moment to shine. Even I admit this was particularly extra though.
The recipe
NB: this is my 2022 version of Nana Retter's Christmas Cake, compiled from all the versions of the recipe and then fiddled with. If you would like the Nana Retter/Gran Shirley/Marilyn original, I have scanned and compiled all four of the versions I have into a PDF which you can download here.
It makes one 20 x 26cm cake. You can double or halve it if you'd like, but make sure you account for it in the tin-size.
When planning to make this cake, soak the fruit the night before you know you'll have time to cook it. It'll take hours to bake, so you want to ensure you'll be around. Leaving your fruit sitting too long could cause it to ferment.
I believe this would work using a gluten-free baking flour blend as flour is almost a minor ingredient in this cake. Please let me know how you go if you try a gluten-free version!
Ingredients
230 grams butter
230 grams white sugar
6 eggs
1 Tbsp cinnamon
1 Tbsp ground ginger
1 tsp ground cloves
1 tsp ground nutmeg
1 tsp almond essence
1 tsp lemon essence
2 Tbsp grated orange rind
3-4 Tbsp orange juice
1.8 kilograms dried fruit¹
2 cups soaking liquid²
340-450 grams all-purpose flour
Instructions
Day before: Combine dried fruit and soaking liquid in a glass, pyrex, or plastic bowl. Cover with a clean damp tea towel and leave somewhere dark and warm like a hot water cupboard for 12-24 hours. Stir occasionally.
Prepare your tin: Double line the inside of the baking tin with baking paper. Include an additional layer or two at the bottom. Line the outside of the tin with newspaper (you do not need to line the base with newspaper) and secure with string. This helps to prevent the edges of the cake from getting too dry.
Making your cake:
Cream butter and sugar.
Add eggs one at a time. If it curdles, add some flour – about 1 tablespoon at a time.
Mix in cinnamon, ginger, cloves, nutmeg, essences, orange rind and orange juice.
Fold fruit into cake batter by hand with a spatula.
Slowly add sifted flour until mixture drops in lumps from your hand. The exact amount of flour will depend on how wet the fruit and eggs have made the mixture.
Pour mixture into your prepared tin.
Wet the top of the cake with water to help prevent burning.
Drop the cake onto concrete a couple of times³ before putting in the oven. This removes any air bubbles and ensures the mixture is spread evenly in the tin.
Sit cake on top of more newspaper. Bake at 150ºC until a skewer comes out clean. About 3 to 4 hours.
After the first 2-3 hours, turn cake by 90º every 40 minutes or so to ensure even browning. If it browns too early, you can cover it with a piece of foil or baking paper.
Cake after-care:
After removing from the oven, you can pierce the cake with a skewer, then spoon on an alcoholic spirit or fortified wine to improve flavour and storage-life.
Allow the cake to cool in the cake tin before removing.
Leave the paper on the cake. Wrap in tin foil or plastic wrap, and a tea towel. Store in an airtight container in a cool place until ready to ice.
If desired, at this stage you can open your cake every couple of weeks and 'feed' it with an alcoholic spirit or fortified wine by spooning it onto the top. Obviously, I did that.
Ice with almond (marzipan), and then white icing (available in pre-made blocks in the baking aisle). You'll need some apricot jam for this step to stick it all together.
Recipe notes:
1 – For my dried fruit, I used 700g sultanas; 300g dried cranberries; 275g home-made mixed peel; 175g raisins; 175g of currents, and 175g chopped walnuts (I didn't soak the walnuts).
2 – Nana Retter does not recommend soaking the fruit, but Marilyn insisted it made for a better cake. She told me I could use alcohol when I made it, so I used the cheapest fortified wine available at Countdown. Other options include ginger ale (Marilyn's preferred choice), alcoholic spirits, fruit juice, tea, or even water.
3 – Nana Retter does not elaborate on how high the cake should be dropped from, so good luck! I went with just above my knees and dropped it a couple of times.
Lessons learned
I took making this cake quite seriously, and it took a long-ass time. But as I finished icing it, I came to the realisation that I had joined a long line of women who made this cake for their families as an act of love in the months leading up to Christmas or a family wedding.
The records and memories I have prove that this cake has been made by 4 generations of women, including myself. But I think it's pretty likely it could go back even further. It really did feel like a bit of a spiritual moment as I put the final touches on the icing.
It was expensive to make this cake. All those essences, spices, and fruit add up even before you decide what alcohol to use or buy the icing. I spread the cost out over multiple shopping trips for months, but I don't think a cheap fruitcake is possible.
It took a long time. I began in mid-July by making my own candied peel, then baked the cake in October, and allowed it to mature until Christmas. It was iced on December 22.
It was also complicated. I had to learn new skills and didn't get it entirely right, but I made it work. I had to be organised and think about things many months in advance. That said, I was super-organised this Christmas because my planning for December 25 began way back in October when I had to bake the cake!
This cake is an old tradition, a ritual, and an act of love. I ended up turning my cake into two cakes, and left one with my father, brother, and sister-in-law on Christmas Day. It's safe to say the half I kept for myself did not make it to 2023.
In the end, I don't think it'll be the last time I make this cake. The ritualistic nature of it was nice. I don't know if I'll go to the trouble of candying my own citrus peel again, but I will continue to mix my own fruit.
One thing I enjoy about Christmas is the tradition. And I don't think it gets much more traditional than making your great-grandmother's Christmas cake.