When we moved to The Outpost, I suddenly realised how much I didn't know – and how much there was to do. It took months (probably years, if I'm honest) to come to grips with it.
Sometimes I call my lifestyle block, my life-sentence block. And that's kind of funny, but it's also true. This place is my life.
It's everything. Anything I do outside of this place, is so that I can be here.
And I feel so lucky every day to be here. But it is a lot.
Touching my toes
In late 2020, I was having some lower-spine issues that I found were really helped by touching my toes. Well, trying to. I couldn't quite make it all the way to my destination to begin with.
But I made an effort to touch my toes at least once a day, and the back pain eased. Soon I could actually touch my toes, too!
Touching my toes evolved into my own yoga routine that hit the sore spots. A yoga mat, and block moved into the cabin. Instagram and YouTube gave me some new poses.
I found that doing my stretches was something that supported my work as a gardener. I probably wouldn't be able to physically roll out of bed if I didn't do my routine a couple of times a week.
It renewed and restored my body, supporting the work I needed to get on with.
Yoga, for the mind
I've come to realise that yoga does something for my body that I haven't been taking the time to do for my mind. To switch off, to relax, to breathe.
And I think I need that in order to juggle everything else. So I've started a quest to find my 'yoga for the mind'.
I went on a little shopping trip and found some art supplies, some books, and a few bits and bobs from the Salvation Army op shop.
At first I thought it might be watercolour painting. My great aunt Dorothy used to paint beautiful watercolours – I've always admired her paintings which lived in my grandparents' house.
I gave it a go, but it turned out I found the colouring-in book I purchased at the same time way more relaxing.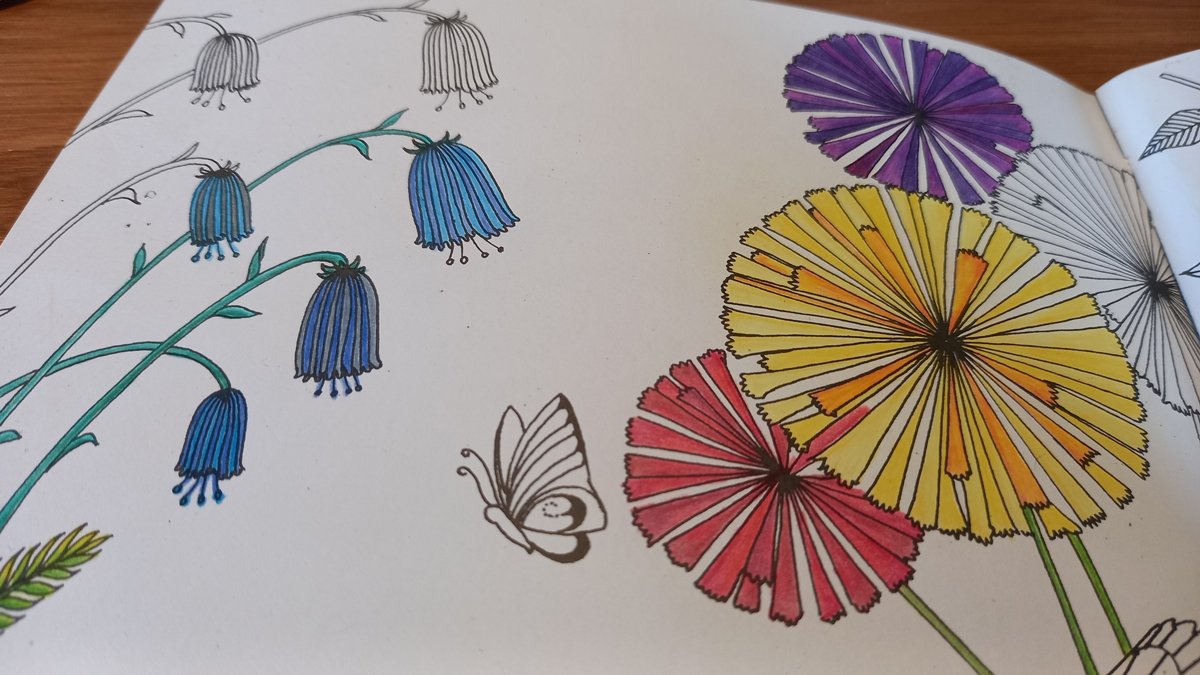 I've since upgraded my Crayolas to woodless pencils from JellyCo.
This fab small-person-owned business is owned and operated by Neo (11) and Anja (9) – my dispatch notice with hand-written thank you was adorable.
I treated myself to the full 24-colour rainbow and I love them so much. They're vibrant, with a great selection of colours.
So colouring in. That's one activity I'm using to balance… everything else.
A bonus buy
I was also surprised by a little vase I found at the op shop. At first I just kind of threw some pretty flowers in to improve my space.
But soon I found myself trying to come up with an actual arrangement.
This week, the header image on this post is a challenge I set myself: unconventional flowers. I used rocket, dill, carrot, buttercup, plantain, and red clover.
Now, I'm ripping out plants that don't produce strong flowers because I don't want them to set seed that grows weak flowers. I'm looking at flowers differently in the garden centre because I want options for my vase.
So I think we can confidently say that changing my little vase of flowers is turning into a restorative activity too.
It doesn't matter if my arrangements suck – I know I have about 5 or 6 days to enjoy them. Then they'll be gone and I'll try again. I'm learning, and I'm having fun being a little creative with the nature around me.
Taking a break
This Wednesday, I'm doing something momentous – I'm jumping on a plane and leaving the farm for 8 days in Wellington.
I haven't left for that long since we got here. And I've only left overnight twice before in total (for my cousin's pre-pandemic wedding, and a night in Kororāreka last summer).
But I have so much lined up. I'm going to see so many friends. There's going to be a party and I'm helping with the catering. We're going to make one of my Gran's recipes for the first time – Quiche Cheese Rolls (which are strangely named given they contain no eggs at all). I haven't made them before because the recipe makes 60 – perfect for party catering.
I'm going to spend some time in Archives and the National Library, trying to find my great grand aunts' cake shop and answering other questions in my family history search.
On Monday, the Friends of Karori Cemetery are running tours. I've booked two of them, and I'm going to go visit and 'meet' at least a few of the ancestors I've been researching while I'm there.
I'll also be celebrating an incredible success with the Nisa team – I am looking forward to hugs and high-fives with those women so much.
And I'm going to have a break. From this place, mostly. I expect to come home thoroughly exhausted if I'm honest. Richard will guard the fort while I'm away.
So right now the plan is there won't be a blog next week, but sometimes I get inspired and spit one out anyway, and maybe that'll happen too – it just probably won't be about my garden!