I've definitely said it before. Any day you get to plant a tree is a good day.
I guess one of the reasons I say it is because sometimes planting trees feels like a very big job, and finding the motivation can be tough.
But it is a good day. It means I did a little bit to suck up some of the carbon I've spent the rest of my life contributing to. I'm doing something for the future. I'm protecting soils from erosion, and water from sedimentation. And I'm improving the habitat for wildlife.
Actually planting trees isn't really that hard for me. I'm not a pro, but it takes around 2-3 minutes each as long as the site is clear of obstacles.
It took longer the first couple of years, but you get faster after a few hundred.
Growing the trees from seed in the first place is probably the harder, fiddlier bit.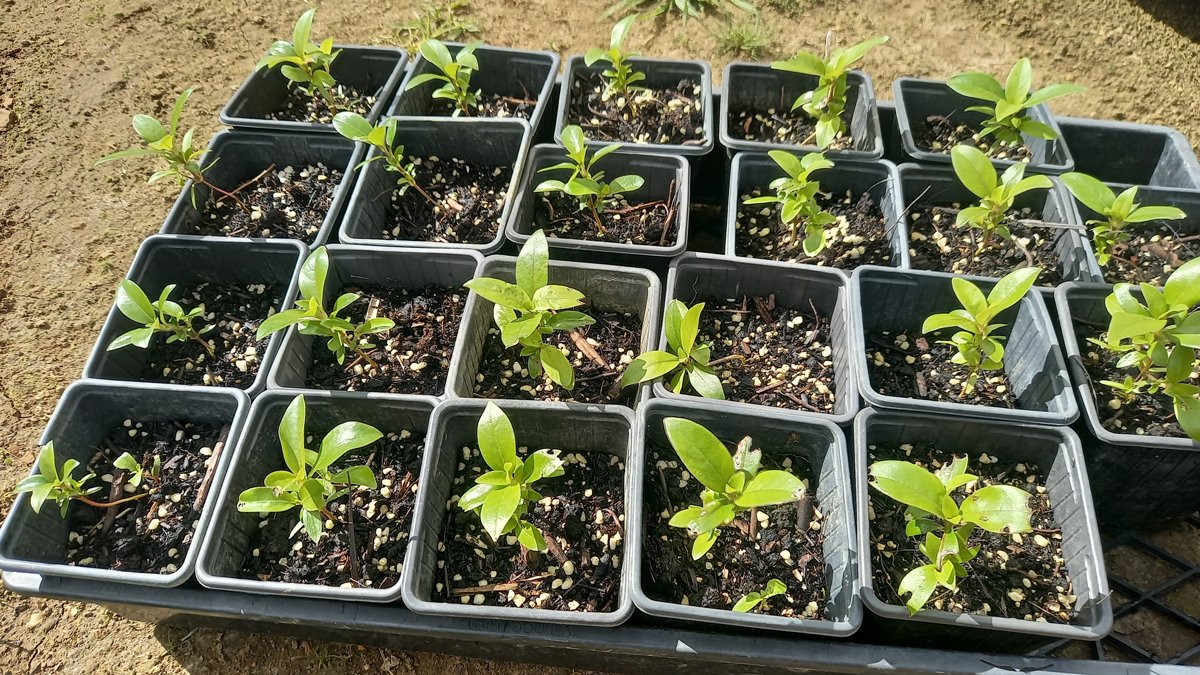 Karamu (Coprosma robusta) seedlings I started in autumn. Regular readers will be unsurprised to read this is a tray destined for experiments, rather than re-foresting.
Most years, I take a chunk of our paddocks off the cows when I plant. That's the end-goal here – more trees, less livestock.
But right now we have soggy ground and slightly frosty temperatures. Apparently, grass doesn't like that much. And we are a bit stuck with 6 cows. Their age, the milk price, and weather means it's not a great time to sell them and de-stock.
And so this season taking the feed off them didn't feel right. I'm grateful we kept our herd smaller than what more experienced farmers told us our land could support. It's struggling to grow fast enough for half that number!
Instead I looked at a part of the forest edge that is already fenced off. A few natives have sprouted there, but mostly it's grass, gorse, and cherry.
This year we had roughly 50 mānuka seedlings I grew from seed collected on the property. And another 40 tōtara seedlings that had begun life growing in our driveway.
There was also a few taraire and pūriri. The taraire seedlings were actually returned and planted below one of the plants I foraged the seeds from.
Throughout August I've popped down with the dogs on sunny days and planted some trees. 10 here, 30 there, 15 on another day.
Counting them all up yesterday, I've planted 96 trees this month. That's a lot of good days for August.
Unfortunately, it takes time after planting before you get a really satisfying 'after' photo. If you look at it now, it doesn't look like we did a whole lot. And there's still more to do before the progress really shows.
From here we'll have 3 or 4 years of maintenance. Mostly that's keeping the grass off the trees and removing the gorse. Maybe getting them some water if its dry. 
But then we'll have 96 new trees sucking up carbon, protecting our soils and waterways, and providing food and shelter for our wildlife.
Eventually, they'll begin shading out the problematic kikuyu grass and gorse. The maintenance will become more minimal.
All up, it's a wrap on this year's native tree planting! 24 of the 96 trees I planted belong to my wonderful supporters and readers who purchased a tree in the last 8 months. Thank you. The other 72 are my gift (or penance) to the future.
In autumn I went out and collected a pile of pūriri, karamu, mānuka, and ake ake seed. Now we're heading into spring, the next job is to grow them.
So that next winter they'll be ready and waiting for us when we go to begin planting again.