Once a month – in addition to my regular gardening and small-farming content – I plan to publish some of my family tree work. I'm aiming for the first Wednesday of every month, but we'll see how we go.
Family trees can get pretty large once you go back a few generations, and I'm working on a few branches. Mostly I'm centering on the period 80-150 years ago as my ancestors immigrated to New Zealand. But I haven't reached a point yet where I'm ready to talk about most of them. There's some good stories I'm really looking forward to telling you, but I need to make sure I've got my facts straight first.
Yet the Smith Sisters feel a bit different – it's less about the story itself and more about the journey to discover it. I still know very little about their lives, let alone their cake shop – which is the goal here. And you'll see what I mean about getting my facts straight later in this post. It's so easy to get led on a wild goose chase when you're following breadcrumbs.
In my first post, I detailed how I found the graves of my three spinster great-great grand-aunts named 'Smith' in Wellington. Give that a read if you haven't already before diving into part two here.
Not long after I published the last post, I learned from the Wellington City Council that the grave the sisters lie in was purchased by Florence Smith ('Florrie') in 1917 following the death of Sarah. But that's about it.
The only place I really had to begin digging into their lives (at least in New Zealand) was from the point of their deaths. So I ordered Sarah's death record from the Historical Births Deaths and Marriages website.
The death print out
Print outs are cheaper and less official than a death certificate, but they tell you more. This one showed up in record speed the day after I ordered it.
It revealed that Sarah had been in New Zealand for two years when she died in November 1917. I figured that meant she showed up in the second half of 1915. So that was a lead.
The address – 146 The Terrace – matched up with the Electoral Roll records I have for Florrie from 1919 to 1925, confirming I was on the right track with the Electoral Roll, and Polly didn't vote. Sarah never got the opportunity to.
It also threw out the question of whether the Florence Smith, late Oriental Bay Kiosk and living at 196 Hanson Street, Newtown (discussed in the last post) was not only not the Florence Smith being charged with theft, but also not the Florrie I was trying to track, making the Kiosk a dead lead.
Finally, the funeral service was conducted by Rev J.R. Glasson, Congregational Reverend. I thought I'd Google him, which led me to discover he was Reverend at Terrace Congregational Church (pictured at the top of this post) from August 1894 to his death in December 1923. So that's another lead.
Sarah died in Wellington Hospital. In what sounds like a lot of pain, possibly fairly suddenly (she didn't leave a will). She was 57.
Finding the immigration record
The good thing about searching for some Smiths in a pile of immigration records in 1915 is that the pile of records is not that large. 1915 is both an understandable time to get the hell out of Europe, and a pretty weird time to immigrate when colonial resources were being directed towards the war effort.
So off I went to the immigration record database on Family Search – an ironic name because the search feature on that website is truly terrible – and I began going through each ship from England that came into Wellington in 1915, page-by-page, until I found them on the Rimutaka.
At ages 42, 48, and 56 – in the middle of the first World War – the sisters boarded a boat for 52 days with over 200 other people, before stepping out onto Wellington soil on 15 September 1915.
Aldersley, David James, 1862-1928. Steamship Rimutaka. Dickie, John, 1869-1942 :Collection of postcards, prints and negatives. Ref: 1/2-016092-G. Alexander Turnbull Library, Wellington, New Zealand. /records/22789898
That's another mystery solved. Meaning the list of what we know for sure is now: when they got here; when they died; and where they are buried.
146 The Terrace
Sarah Smith lived at 146 The Terrace (presumably with her sisters) when she got sick and was admitted to Wellington Hospital prior to her death. It matches the Electoral Roll records I have for Florence Smith (spinster) in 1919, 1922, and 1925.
I began my search for their house with Papers Past. It wouldn't be unheard of for the girls to live above their cake shop. But searches revealed it to be some kind of boarding house. Lots and lots of to-let ads over several years. Never with a 'Smith' attached.
Then I moved to Google, which sent me to a Facebook post by Old Wellington Region.
So the house they lived in for up to a decade is now the site of the Wellington Motorway Offramp. There are lots of pictures of this area available online, so while it's a bit of a dead lead, I might be able to find a picture of the house at some point.
Electoral Rolls
All was not lost, however, as I now considered my Electoral Roll records to be more reliable. They have Florrie moving to 186 Willis Street in 1925, and 41A Marjoribanks Street in 1931, where it appears she was until she died.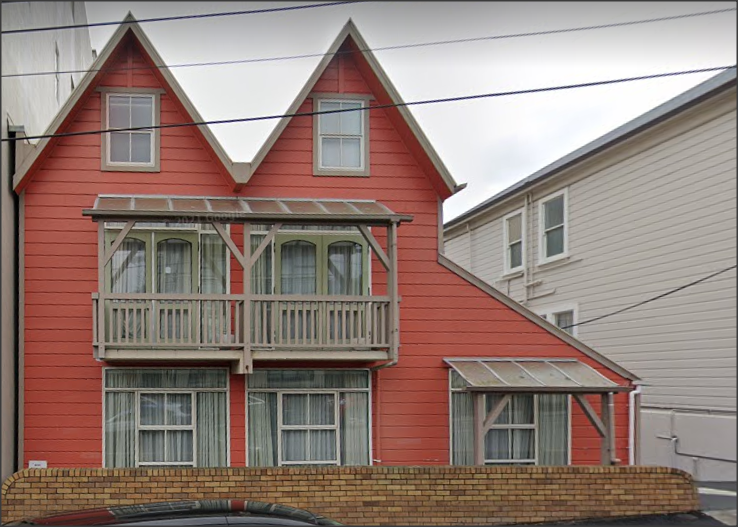 Willis Street is now a high-rise office tower, but 41A Marjoribanks Street might be one of my favourite houses on the street – it's just around the corner from where my grandmother lived in the 2000's – and might also be the house Polly and Florrie both died in.
Obviously I ran both houses through Papers Past. I got one hit – a to-let ad in April 1941 – prior to the deaths of either Polly or Florrie. Talk about confusing. It's going to take some more death print outs to sort that one out.
The problem with the Electoral Rolls in this case is it's hard to prove that random Florence Smith has anything at all to do with the person I'm trying to follow. There's no husband (or sister) to 'cross-reference' against. And we know there's at least two (maybe three) Florence Smiths in Wellington at the time.
Florence Smith of Hansen Street
Speaking of other Florences, what about Florence Smith of Hansen Street? Remember her?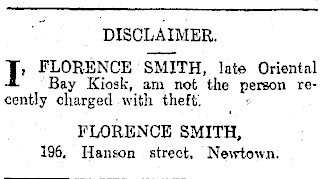 I needed to rule her out. 196 Hansen Street and Newtown are under the Wellington South electoral rolls. I tried 1925 first and found Phoebe Smith, widow. Then I looked at 1922 and found Phoebe's husband Charles still alive and a spinster, Ivy, living with them.
Tough life for Phoebe, but the Smiths at 196 Hansen Street are definitely not the Smith Sisters. So she's not our Florrie, and therefore the Oriental Bay Kiosk is not our cake shop. This is a dead end that I probably could have ruled out earlier.
Congregational churches
Sarah's funeral was conducted by J.R. Glasson, Reverend of the Terrace Congregational Church.
I didn't know anything about Congregational Churches before I went down this rabbit hole, but they are where 'Puritans' originate from. They make up about 0.5% of Protestants globally, and many members did immigrate or become missionaries to the colonies. From my brief understanding, a Congregational Reverend strikes me as a strange choice for your funeral if you are not a member of that particular church.
Yes, it's possible Florrie walked in to the nearest church and asked the Reverend to help a girl out after her sister suddenly passed away; but I think it's more likely three middle-aged English spinsters in the colonies in 1915 probably went to church. And the church of the Reverend who conducted Sarah Smith's funeral has a stack of records housed at the National Library in Wellington.
This is a set of records I think I have to travel to see in person. Unless someone more local wants to do it for me. There are a lot of them including lists of members, a church magazine, financial records and more. If the sisters attended this church, they're likely to turn up somehow amongst the records in the National Library.
It's a lead. It might be another dead end, but I won't know until I get a chance to peruse them.
UK Census
I've rounded up all the UK census records for the sisters – 1861-1911. In the UK, the census was held every 10 years in April/March and I can use them in a similar manner as I do Electoral Rolls in New Zealand to track movement and – more vitally – occupation.
Between 1881 and 1891, Sarah went from being a general servant to a breadmaker. Somewhere during this time is also when Sarah and Polly moved in together, and Polly is also listed as a breadmaker in 1891. They continued to live together until 1917 when Sarah died.
In 1901, Sarah is listed as a baker/shop assistant, while Polly was a baker's assistant. By this time, Florrie was living with her sister Phoebe – my great-great grandmother – but she is also a baker/breadmaker. When I looked up their addresses relative to each other, they were within a 15 minute walk.
By 1911, Sarah is a confectioner and baker, while Polly is a confectioner's assistant. At this stage the person I think is our Florence is living by herself, a cottonweaver (a very common occupation for women in Burnley where they lived).
These census records only offer us a glimpse of one night every decade, but they do establish that Sarah was the real talent with the cakes and spent several decades as a baker.
Polly spent at least three decades as (presumably) her assistant, so must have known something about carrying it on. It looks possible Sarah and Polly ran a shop in Burnley too, which is probably a path I'll begin exploring while I wait to get to the National Library.
Yes, but what about the cake shop?
It wasn't the Oriental Bay Kiosk. It seems likely the Wellington cake shop would have been established between September 1915 when they arrived and November 1917, before Sarah died. If Electoral Rolls are to guide us to a location, it was probably located somewhere in the vicinity of Willis-Lambton-The Terrace.
Florrie died age 72, and Polly made it to 71. It's possible Marjoribanks Street was their 'retirement house', so I think the latest the cake shop would be open and running under the Smith sisters would be about 1930, giving a 15 year possible window of operation. If they worked until they died, then Florence was the last to go in 1942.
I think I'll use this information to see what I can dig up about tea houses, patisseries, cake shops, and bakeries through old company records. If they set up a business, there's probably a tax trail somewhere, and focusing from September 1915 to November 1917 with a possible address and area of operation seems like a straight-forward place to begin.
Where to now?
I think the church records are a solid lead. The sisters could easily show up in a number of ways there. They'll be the first thing I'd want to see if I were in Wellington.
The death print outs of Polly and Florrie will shed more light on where and how they died, and hopefully cross-reference to the Marjoribanks Street address, so I'll get them in due course.
And there would probably be some merit searching digital photobanks of the Wellington CBD during the time period. There are so many available. Maybe I'll stumble upon the cake shop in the background.
If you've made it this far and you think you've got something to add – please let me know. Maybe I'm missing an obvious clue, or you have some context I don't – I'd love to know.
The more I learn (however little) about these women, the more curious I get. I'm not sure how much more progress there is to make on this from behind a screen in Northland, but I don't think that's going to stop me either.
Header image credit: Congregational Church, The Terrace, Wellington, 29 September 1934, Wellington, by Leslie Adkin. Gift of G. L. Adkin family estate, 1964. Te Papa (A.005435)