For months, my garden shed has been blocked by a wheelbarrow full of stuff.
It started as a wheelbarrow full of daffodil bulbs. As usual for this very wet year, I'd been rained off the task while lifting my bulbs. So I threw them into a wheelbarrow and quickly lugged that into the garden shed to keep them safe. That was back in February
As time went on, I never went back to the daffodils. Instead I just kept working around them: throwing things on top and around it as I went and worked on other things.
So as I began the task, the garden shed looked like this:
As we marched into the third week of May, I knew if I wanted my spring daffodils, I needed to put them back into the soil. So I found an hour before another big dump of rain and planted most of them before the storm rolled in.
Which is to say, keeping the daffodil bulbs dry and safe was no longer a concern. And this week I got on with sorting out the rest of the mess.
Shuffle it
For the most part, the shed isn't too bad once you get past the mess at the door. I run through once a year or so and do this task. The main thing I needed to do was pull everything I'd piled near the door out, and re-stack it where it actually lives.
That doesn't mean I was totally happy with where everything lived, however, and my simple clean and tidy turned into a full-on build for a few days.
The tools have never really had a proper place to live. There were buckets for the smaller tools, and a 'general area' for bigger tools. But no obvious system, and usually if you want something, a bit of hunting is involved.
If I'm honest, 90% of the time I'm good at putting the tools back properly. But 10% of the time, I'm lazy. Or it started raining on me and I'm just in a panic to put it all away. Then as I have already discussed, I don't go back to fix it again later. It's like that until I get mad at it and decide a tidy is in order.
So I had an idea to perhaps make things a bit easier this time. Maybe keep it tidier for longer. Maybe.
Tool rack
Richard's new boss has been holding on to interesting pallets for me. I'm less interested in standard pallets – they're usually pretty flimsy these days, and too short most of the time. But long pallets, or pallets with good strong wood? I will take those home any day.
He'd been nice enough to save me a big long pallet. Long pieces of wood that would stretch for say, the entire length of the garden shed wall.
I came up with a design, then built the thing using wood from a pallet. It took three days and I took absolutely no photos of the construction. There are three holding racks for large tools and it works well enough in the end. I'd do things differently if I were to do it again, but we have this now.
Our screw and nail selection is starting to get a bit low, so I did have to spend $30 on the fasteners. And then I found a packet of mixed hooks at The Warehouse for $11, which worked perfectly for the hand tools on a piece of plywood.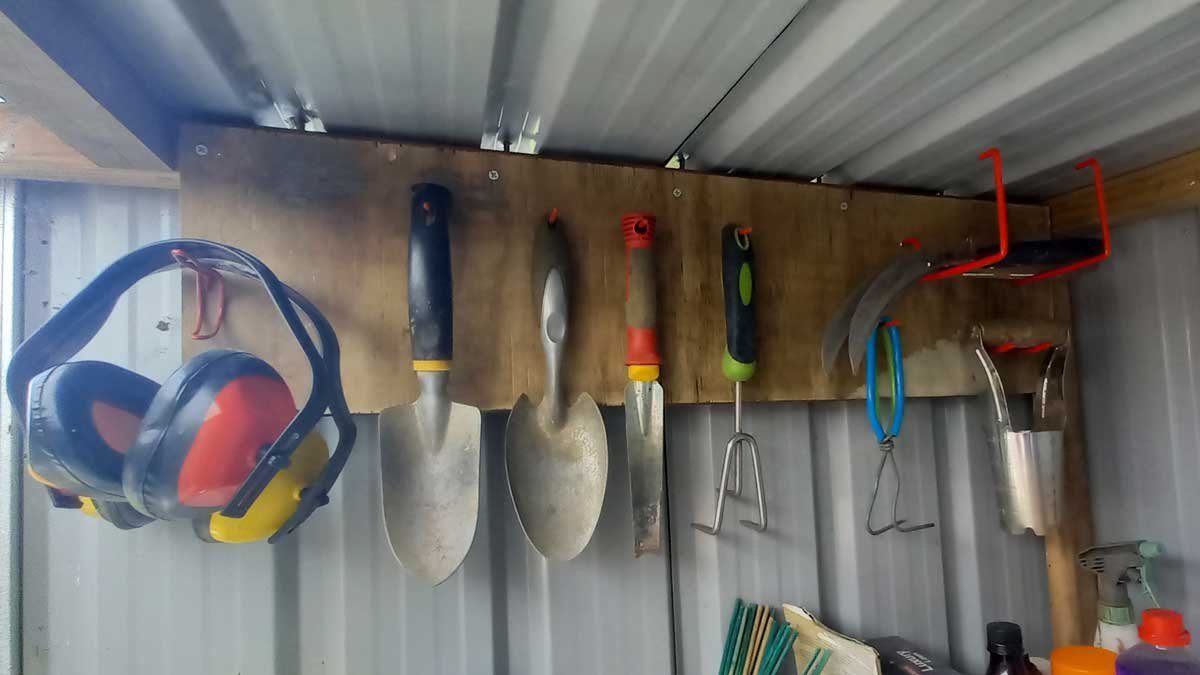 For a construction cost of $41, I'm pretty happy with the results.
Buckets and stuff
I found 8 empty buckets by the end of this job. 8 buckets are going to be handy to have around the place.
I have room to move around. There's space to store a wheelbarrow away from the rain when I'm not working.
The pots that had accumulated in buckets are back in the pot storage area. The sprayers have all been emptied, cleaned, and tested.
The brushes are together, the fertilisers are together, the poisons are together (the shed itself is a lockable safe storage, in case you're wondering about that).
I can find what I need, when I need it. And it's lovely.