When the former residents of The Outpost set up our little 'living compound', they had some earthworks done. They carved out a driveway, and flattened a space to live on.
They had all the top soil left as mounds along the driveway, as well as one beside the caravan.
And it's the one beside the caravan that has been annoying me for years now.
It took up quite a bit of space given it was just a pile of dirt. And it's premium living space – right in the middle of everything.
We've been chipping away at the soil pile since before we even moved in. If ever we are in need of some soil, we go pull some off the pile.
But we're rolling towards our third year here and you wouldn't really know we've even touched it. It's still just-as-large, taking up just as much space.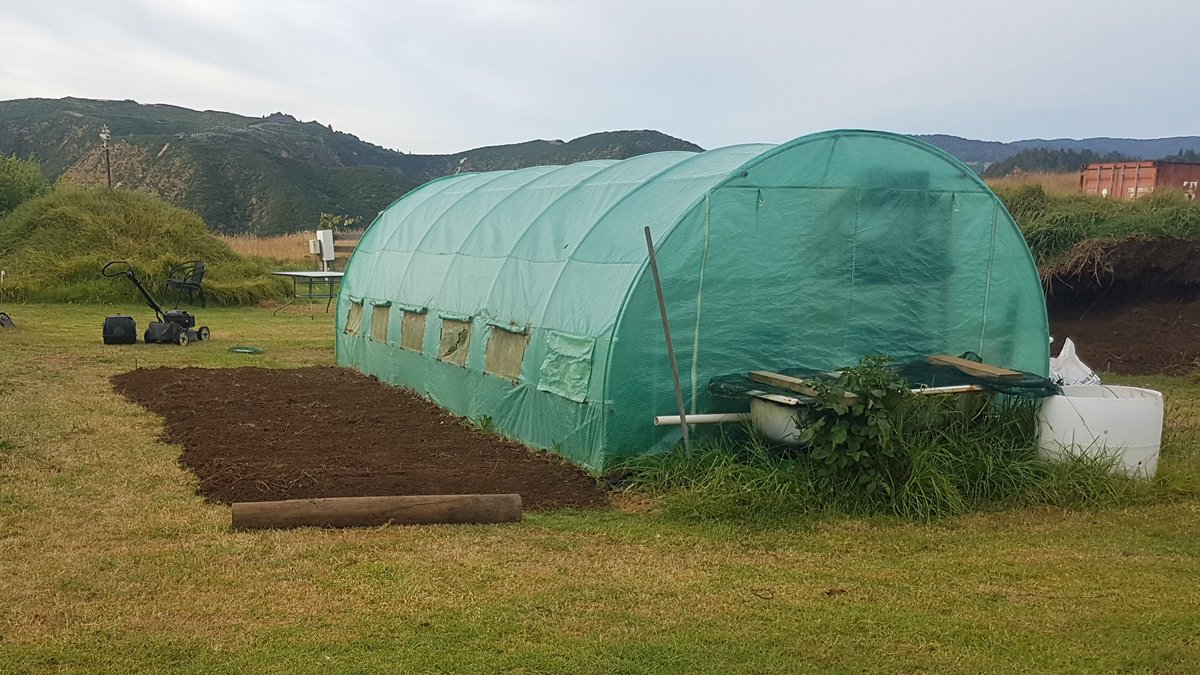 It took quite a few wheelbarrows of soil to level up this area beside the shadehouse for our plants. The other soil mound in the background is called 'Mount Weather' because it holds the weather station.
It remained: this stubbornly large mound of soil, right in the middle of everything. We walked around it. Mowed around it. Worked around it. Used it as a conveniently sheltered spot for the occasional fire. It grew lots of thistles. Roxy loved to play on it.
Sometimes I poisoned the grass in the hopes that we would knock it down somehow, soon. I dreamed of having a flat, grassy spot people could pop a tent on.
Maybe I could plant a nice windbreak out of the rosemary, lagerstroemia, or Chilean guava I've got sitting in pots, waiting for a place to grow?
I've been telling people about my plans for… well, years now.
The big guns
Last weekend, our neighbour was busy working from sunrise to sunset with a 5 tonne digger next door. He's carving out the site for the house he's planning to build.
On Monday, with a couple of hours left on the hire, our neighbour was finished. And Richard managed to snag the digger for an hour.
I marked out the area with a string line and Richard got to work in an airconditioned cab, knocking down the soil pile.
There was a bit of a learning curve, but he did get the pile down within the hour. And now we're figuring out how to fine-tune it so it's actually… useable.
The little guns
We've spent the last week shoveling dirt into wheelbarrows, and moving wheelbarrows of dirt from one place to another. As we do so, I'm trying to figure out how to make it all work.
An artist's impression of what the site will look like, maybe.
There's plans for a new garden shed that will live at one end, so our key goal is to level the northern end up. Then, we'll need a graded path so we can pass through it as we go about our day.
I may need to add a terrace or two in order to get the flat surfaces I so desperately want for camping and entertaining.
And the lawnmower needs considering amongst this, too. Whatever we do, the ride on needs to get in and around to easily maintain it. That means using ramps over steps, and making sure there's enough room to turn and move around.
They've got the skills
It's a lucky thing I've spent the last year learning how to landscape. I'm right in the middle of a paper on hard landscaping, and last year I aced a paper in laying out a site.
Once I figure out exactly how this space should be arranged, I'll need to re-set the string lines and mark it all out. But I can do that. I've worked to gain the skills to do this kind of thing.
We could have done with another hour with the digger, but honestly – beggars can't be choosers. The hill has been knocked down, and that's a great start. Once the plans are in place and the site has been set out, we can look at hiring a smaller digger for 24 hours.
I don't think we'd need the entire time to finish this spot, but it will be significantly easier than a shovel and wheelbarrow. There are more soil piles to be knocked down, a couple of paths that need putting in, and some drains that need work if we have time left on the clock.
It's another half-started project, but it's in such an important position that I won't be able to ignore it for long. Next summer, there will be a flat, sheltered space to pitch a tent. Finally.